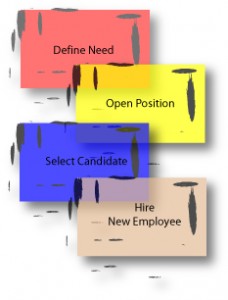 Knowing how and where to recruit the best talent can be surprisingly complex. Fortunately, Wolfe and Associates has the know-how, plus the scalability, flexibility, accountability, and transparency for your hiring needs. Working with us is a partnership, where we can manage all, or some, of your recruitment process and vendor management solutions.

Our resume screening and job posting services are affordable and provide your hiring managers with adequate resumes to identify a qualified candidate. We take care of posting the positions, monitoring the resume flow, pre-screening candidates, scheduling interviews and assist with the on boarding process while your managers focus on business.
Finding workforce and vendor management solutions isn't simple. Or maybe it is. The fact is, you've already done it by finding us. So, keep reading to find out all the ways we can get the job done for you.
Recruitment Process Outsourcing
Increasingly, companies are recognizing the significant advantages of outsourcing part or all of their recruitment process. We offer end-to-end and job-specific recruitment solutions with a level of service that distinguishes us from others. Our services include but are not limited to:
Creating job descriptions for each position
Developing a thorough sourcing and networking plan for the harder to place positions
Coordinating and posting all open positions on internet job boards
Making the "cold" calls to find the passive candidates
Sourcing for candidates using social media
Screening all resumes and applications
Scheduling and conducting candidate interviews
Submitting qualified candidates to hiring managers
Background and reference checks
Coordinating and negotiating offers of employment
How Your Company Benefits
The candidates we find are submitted only to your hiring managers, not your competitors. You own the contracts, referrals and references.
Placement agencies have other customers. When they come across a strong candidate, they pass them around to all of their accounts hoping to find a taker.
We take the time to identify with your company's culture, ensuring we submit only the best candidates to your company.
We actively network, making contacts, creating interest, and marketing your products; thereby creating something of value.
We work with your hiring managers, trouble shoot any problems they may be facing, and streamline the entire recruitment process, while handling all logistics.
We source directly for you. The best candidates are still employed and not only need to be located, but convinced that now is a good time to move.
An example of savings:
A typical recruiting agency is going to charge a contingent search fee of 30% of the first year salary. If your position pays $60,000, you can expect to spend $18,000 in recruiting fees.
Our fees are not based on the salary amount or on a percentage. We charge a weekly flat rate. We simply want to be compensated for the time and effort it takes to advertise, source, screen, qualify, interview, complete background checks and submit qualified candidates to our clients.
Using the same example of a $60,000 position, and typically taking less than 30 days to successfully fill a position, with our low weekly fees a typical search would be approximately $3000.00. That's a savings of $15,000.
Fee Structure
Job Posting and Resume Screening Service – $285.00 per week. One position posted on a variety of job boards, such as Indeed*, ZipRecruiter, SimplyHired, AlljobsUSA, EbayJobs and more. After resumes have been screened for qualified candidates, those resumes are sent to the hiring manager. Additional $90.00 per week for each additional posting.
* Additional charges apply to post on Indeed.
Isaiah 40:31